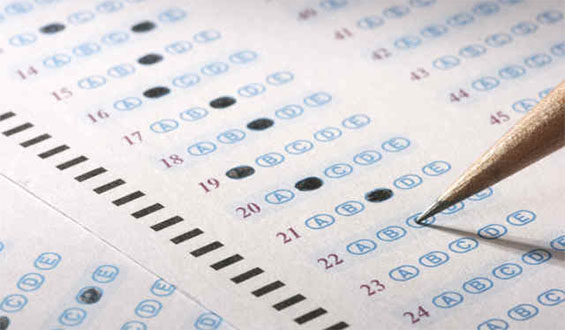 New research from IU Kelley School of Business professor Herman Aguinis suggest that hundreds of thousands of college students have been affected by varied predictions of standardized test performance.
In his paper "Differential Prediction Generalization in College Admissions Testing," Aguinis argues that because admissions policies, grading approaches, and academic support vary by school, it is uncertain how useful and fair it is to look at standardized test results as a measure of future success.  He said that he has found the predicted GPAs of hundreds of thousands of students to be under or over-estimated when based on SAT scores.
"If the prediction is not the same, that means that you can benefit or suffer based only on your ethnicity or gender because your performance is expected to be higher or lower than it will be, which means you're more or less likely to be offered a scholarship or you're more or less likely to be offered admission," Aguinis said in the release.
His co-authors on the paper, "Differential Prediction Generalization in College Admissions Testing," are Steven A. Culpepper of the University of Illinois at Urbana-Champaign and Charles A. Pierce of the University of Memphis.
The paper comes at a time when many colleges are considering making SAT results optional in the admissions process.
The issue was first considered by the same co-authors in 2010.  At that time their paper suggested that there could be flaws in the methods used for admissions or employment testing by the College Board, which administers the SAT and GRE, and others.  While they could not say the tests were biased, they did say there was potential for bias and that methods to reveal bias were deficient.
Research scientists at the College Board responded to the original paper in 2013 through their own published paper, questioning the original research because it was based on simulation.  Meanwhile, authors Krista Mattern and Brian F. Patterson used real data from over 475,000 students at over 200 colleges between 2006 and 2008, finding that on average, the relationship between SAT scores and first-year GPAs were the same across various groups.
Meanwhile, the version of the SAT currently in use across the country was administered for the final time last weekend.  The newly revamped version will be released in March, which the College Board said focuses more on what high school students study and the skills they will need to succeed in college and beyond.
The new version will include less of a focus on vocabulary words and more emphasis placed on real-world learning and analysis.  Guessing answers will no longer be accompanied by a penalty, and the essay will be optional.
According to the College Board, registration for the final run saw a 10% increase with over 351,000 students signing up to take the exam.
The test was last revised in 2005.
The College Board recently partnered with online education platform Khan Academy to provide SAT practice for the new exam.  Students can participate in diagnostic quizzes and interactive practice tests free of charge.