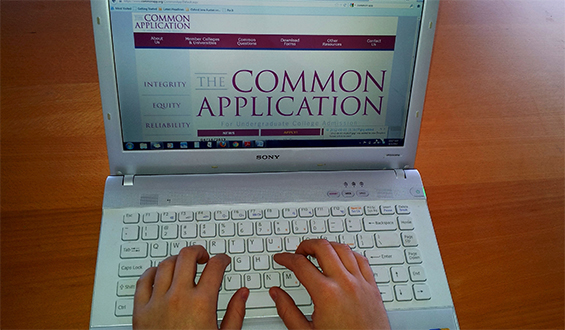 The Lawyers' Committee for Civil Rights Under Law is requesting to have discipline-related questions removed from the Common Application that is currently used by more than 620 colleges and universities and completed by 860,000 students each year.
"So long as racial disparities persist at every stage of our criminal justice system, we fully expect that these kinds of questions will unfairly deny educational opportunity to, or have a chilling effect on, African Americans and other minority groups," wrote Kristen Clarke, Lawyers' Committee president and executive director, in a letter to the Common Application.
Meanwhile, admissions officers say the questions are needed due to the increase in campus shootings and terrorism, adding that the questions offer a more complete picture of an applicant.  Kent Rinehart, dean of admission at Marist College and a board member of the National Association for College Admissions Counseling, said the responsibility of the admissions offices to uncover possible warning signs increased after the Virginia Tech shootings.
Rinehart went on to say that answers to the questions at Marist range from private school students being suspended for not having their socks pulled up to bullying, cheating, and felony convictions.  He said all are considered.
The questions were added to the Common Application after participating universities requested them in 2006-07.  Many colleges that use their own applications also use these questions.
In January, New York University pushed for a review from the Common Application as to whether the section does in fact help with safety on campus or if it disproportionately discourages minority applicants.  This is the first year the University no longer considers whether the criminal conviction box is checked until after the initial screening.
According to Aba Blankson, senior director at the not-for-profit Common Application, the group is looking into the issues at hand.  Until a final conclusion is made, those who check yes have the ability to offer a more in-depth explanation.  For example, she said a student who got in trouble for alcohol use may become involved with a group such as Mothers Against Drunk Driving.
Results from a report by the Center for Community Alternatives conducted last May found 73% of colleges and universities collect high school disciplinary information.  Of that group, 89% use the information when making an admissions decision.  However, only 25% have formal policies with regards to the use of that information, and less than one-third train their admissions staff to properly interpret any disciplinary findings.
The report has also found that 50% of school districts have policies in place that do not allow them to share disciplinary information with colleges.  In December, the Syracuse City School Board in New York State approved such a policy.
Meanwhile, a separate report conducted by the Harvard Graduate School of Education, and signed off on by admissions representatives from over 80 colleges and universities across the country, suggests that the admissions process needs to focus less on personal achievements, arguing that doing so places too much emphasis on personal success and not enough on helping others or the common good, reports Sherri Lonon for US News.
The report, "Turning the Tide: Inspiring Concern for Others and the Common Good through College Admissions," states that instead, students should be encouraged to participate in community service and to make ethical contributions to society.