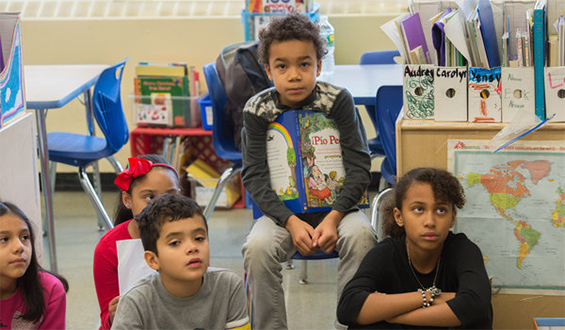 A new study from New York Appleseed has taken a closer look at racial isolation among educationally disadvantaged children, finding that segregation by race or income relates to limited resources in New York City elementary schools.
The study, "New York City Elementary Schools: A Tale of Two Cities," discusses both the benefits of diversity in the classroom and the harms of isolation for educationally disadvantaged students, suggesting that both support the idea of school diversity.
According to the findings, students who attend schools with large populations of racial minorities and low-income students are at a disadvantage when it comes to readily available resources in comparison to students who attend schools with a predominantly white student population of higher income.
Schools with a large population of Black, Latino, or other non-White students were found to be more likely to employ less qualified teachers than schools with a high percentage of White students.  These were determined to be teachers who did not hold a valid teaching certificate, those teaching out of certification, or core classes that were not taught by "highly qualified" teachers. Annual teacher turnover adds to the distress.
A highly-qualified teacher was considered to be a teacher who held a master's degree in addition to 30 academic credit hours of extra training or a doctoral degree.
In addition, the authors found that students who attend schools with a high Black, Latino, Black or Latino, or non-White student populations had higher student-to-teacher ratios and higher class sizes than students in schools with a high White population.
The report recommends that the Department of Education begin the process of developing and adopting an official policy statement discussing the importance of diverse schools that have accountability standards.  It states that the DOE should require all schools to develop a welcoming environment for all students, including all races, cultures, and economic backgrounds.  The accountability standards would ask all administrators to look at each of the daily decisions they make and determine whether they coordinate with the ultimate goal of school diversity.
The authors write that benefits include helping to prepare children to live and work in a diverse nation, which is predicted not to have a single majority ethnic group by 2042.  They write that diverse schools offer the opportunity to gain critical thinking skills through looking at multiple perspectives, as well as teaching them to create a welcoming and safe environment where everyone will feel valued.  Schools that create such an environment generate students who are less likely to place stereotypes on others and are more capable of cross-racial understanding.  These students will also be more likely to live in diverse neighborhoods later on in life.
New York Appleseed worked with professionals from Edgeworth Economics for the study in order to analyze the disparities in educational resources that are most necessary for educational opportunities, as it was discovered that public records of such information is not kept by the Department of Education.