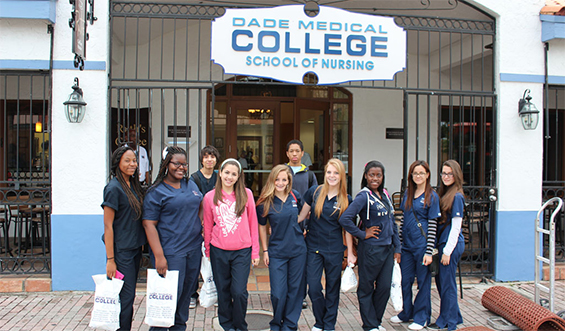 Only 72 hours after it was announced that the for-profit Dade Medical College in West Palm Beach, Florida would be shutting its doors, over 100 students skipped their classes to protest outside the campus to demand answers from its owner.
The students are looking for reasons why the college is closing so suddenly and what will happen next. Many of them have already paid for classes and are wondering if they will be receiving refunds or transcripts.
"They steal your money and they take off," student Marlena Santos said. "I don't know. No answers. No why…when they were planning on doing this. Why they did it at all."
Academic Counselor Patricia Aviezer suggests that students seek legal advice. Because they entered into a contract with the school, she does not believe there is much they can do unless they come together as a group.
She went on to say that students should always research their options beforehand to ensure that the school is a "qualifiable kind of educational institution."
She says adult vocational classes and community college should not be overlooked as options in place of for-profit schools.
Students and employees were informed about the closure in an email from the college's founder, Ernesto Perez, which was sent last on Friday. The email did not include a reason for the closure, but thanked the students, reports Jenise Fernandez for Local10. Perez added that additional information pertaining to where and how they could continue their schooling would be coming.
Students have been asked to report to Management Resource College, who will accept their credits, reports Willard Shepard for NBC6.
Jason Hackett reports for Newschannel 5 that the US Department of Education has confirmed that the school had been put on the "Heightened Cash Monitoring List" due to its finances and low student scores on certification exams. Schools on that list have had action taken against them by the DOE to delay federal funding.
A $4.6 million federal lawsuit has been put in motion against the school, which, Hackett writes, could have put the school in such financial hardship that it had no other option but to shut down.
According to Perez, costly changes had been made to the school's financing by its lenders. Cost overruns on new construction and legal fees all added up to millions of dollars that caused dire financial circumstances for the school.
Perez is set to plea in court this week on charges of perjury.
The Florida Department of Education is currently working with the school to find placement for its students in local schools that have comparable programs.
Dade Medical College is a for-profit institution that focuses on preparing nurses and other health care workers for future careers. All six of the college's campuses have been shut down.
In all, the school enrolled around 2,000 students and employed 400 staff members. Instructors stated they have yet to be paid in full.