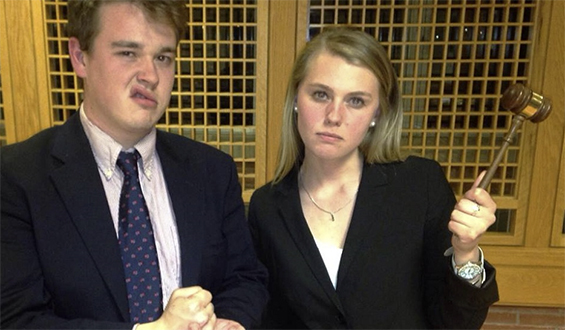 Racial tensions are mounting at the University of Kansas as three top Student Senate leaders are being pushed to resign while a recent graduate began a hunger strike over the treatment of race on campus.
In a similar fashion to the events that unfolded at the University of Missouri last week that resulted in the resignation of school president Tim Wolfe and Chancellor R. Bowen Loftin after months of protest from students, the Kansas Student Senate is now seeking the removal of three of its leaders because they did not state explicitly that "Black Lives Matter."
And just as in Missouri, a recent graduate is looking to draw attention to the racial tension occurring on campus through a hunger strike.  John Cowan, a white student from the Class of 2014, said the strike came because as a white student he had an advantage, but others do not have such a choice.  Cowan said that if demands are not met, he will "die or go to the hospital."
The student executive committee is pushing for the resignation of student body president Jessie Pringle, vice president Zach George and chief of staff Adam Moon.  If the three do not agree to resign, the committee would like the senate to impeach them.  In a 6-3 vote late last week, the committee voted "no confidence" in the three leaders.  One member did not participate in the vote, writes Lonnie Shekhtman for The Christian Science Monitor.
The demands came as a result of a forum held last week moderated by University of Kansas Chancellor Bernadette Gray-Little that found a student group Rock Chalk Invisible Hawk presenting diversity demands, including the hiring of a director for the Office of Multicultural Affairs by December 15, making "inclusion and belonging" training mandatory for both students and faculty members, as well as increasing diversity in the hiring process at the school.
According to Senate vice president Shegufta Huma, who is also a member of the committee, the vote came after months of inaction that came to a head because the leaders were unsupportive of the forum demands.  The committee said that Pringle and George in particular did not "stand in solidarity with their black peers and proclaim that Black Lives Matter" at the forum.
"This is part of a larger pattern and some much bigger issues that (the) Senate has been dealing with in terms of our relationship with marginalized communities at KU," Huma said.
In a statement released over the weekend by the three leaders, plans were announced to continue their positions with support offered to minority groups.  "Black lives matter. Black lives matter at the University of Kansas," they wrote.
Gray-Little said discussions will begin "early next week" with her administration pertaining to how the school will move forward with regards to this issue of racism.