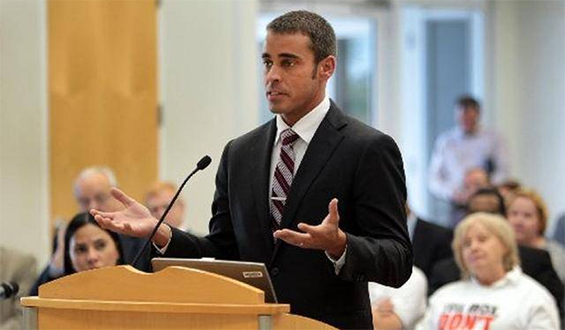 A Florida Senate subcommittee has responded to a contentious plan being pushed by Rep. Erik Fresen (R-Miami) by presenting its own alternatives to the amount school districts can use for capital costs and the type of access Florida's 650 charter schools will have to state and local funding.
Fresen's proposal concerning charter schools, which was sent to the House Appropriations Committee last week, conflicts with the Senate subcommittee's ideas, writes Kristen M. Clark for the Miami Herald.
The Senate's Education Budget Chairman Sen. Don Gaetz (R-Niceville) unveiled a counter-proposal that might put a cap on potential charter school funding and limit how much funding districts are allowed to spend on projects.
Gaetz says it would stop what he calls charter school "real-estate schemes" by obstructing the use of tax dollars for "private enrichment" projects. It would also eliminate a funding formula that determines how much capital money each charter school receives and would give funding priority to schools that are primarily in place to aid low-income students or children with disabilities.
In other words, said Gaetz, the Senate wants to give preference to charter schools that have a "social conscience." But a few key members of the House are firmly connected to charter schools. That includes Fresen and Gaetz's committee peer Sen. John Legg (R-Trinity) and his wife, who run a charter school.
The Associated Press' Gary Fineout reports that it all boils down to a tug-of-war over millions of dollars in taxpayer money. Some lawmakers want to channel more money to charter schools despite a recent analysis by AP that revealed up to $70 million was funded to charter schools that ultimately shut down.
Republican legislators believe it is necessary for charter schools, that are publicly funded and privately run, to receive more money to use toward such matters as construction costs and rental payments.
"I believe it's time that we recognize that our charter public schools are public schools," said Rep. Janet Adkins, a Fernandina Beach Republican.
District superintendents in the state are opposed to school districts sharing property taxes with charter schools. They say it will pressure traditional schools to avoid necessary repairs or put off the purchase of big-budget items such as school buses.
The House budget includes $90 million for charter schools. If the separate bill becomes law, an additional $63 million would be shared by districts.
The cost of construction for schools statewide is paid by state money and local taxes, including sales taxes that are increased by voter approval. Charter schools are not able to use tax dollars for their capital expenses at this time.
This year, lawmakers are trying to find ways to decide which charters are in line to receive construction money from the state. They have not, however, come up with a solution to recoup money from charter schools that have closed their doors.
The Associated Press writes that Fresen has agreed to support proposals that would order charter schools to return money to the state. He added that many of the closed charter schools were "fly-by-night operations," and he, for one, wants to make it more difficult for charters to become qualified for state money.