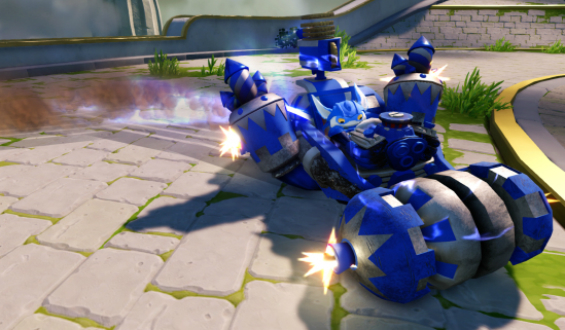 Entertainment company Activision has announced a new initiative based on the popular children's video game franchise Skylanders in an effort to help raise awareness for autism.
Peter Morton, vice president of Corporate Development at Autism Speaks, said one out of every 42 boys and one in 68 children in the US are affected with autism.
New "Light it up Blue" Skylanders will be available for April, which is Autism Awareness month.  The toys will be blue and white in a nod to the official colors of Autism Speaks and will include the characters Splat and Trigger Happy in addition to their vehicles, Splatter Splasher and Gold Rusher.  The blue and white colors will also be featured during gameplay.
"Since the debut of the franchise, we've heard from parents that Skylanders plays a special role in the lives of their kids on the autism spectrum," Skylanders executive Josh Taub said in a statement.  "The entire Skylanders team was deeply committed and proud to bring these special toys to life. If they can put a smile on a child's face, then we know we've done our job right."
The company is also offering an employee education and donation matching program to extend throughout Autism Awareness month.  Activision will also be providing its employees with the opportunity to participate in the Autism Speaks Walk set to take place on April 2 at the Rose Bowl in Pasadena, California.
The company will also be making donations to a variety of autism-related non-profits, writes Jan Dizon for Tech Times.
This is the first time that Autism Speaks has partnered with a video game or toy company, reports Eddie Makuch for GameSpot.  Morton said the organization is excited about the partnership.
"When my son was diagnosed with autism, I felt very alone. From my first Autism Speaks Walk, I felt the power of community, and this partnership with Skylanders will bring awareness and belonging to kids and families in a unique way," said Matt Asner, director of Corporate Development, Autism Speaks.
The toys are currently available in the United States and Europe with plans to release them in Canada on April 1.
With its headquarters in Santa Monica, California, Activision Publishing, Inc. is a leading global producer and publisher of interactive entertainment.  Operations for the company are maintained around the world. The company is a division of Activision Blizzard, an S&P 500 company.
An organization for autism science and advocacy, Autism Speaks dedicates its time to providing the funding necessary for researching the causes, treatment, and prevention methods for autism, as well as searching for a cure, increasing awareness of disorders found on the autism spectrum, and advocating for the needs of those with autism and their families.  To date, the nonprofit has raised more than $570 million for their efforts, and partnerships have been established in over 70 countries and on five continents around the world to aid in international research, services, and awareness.