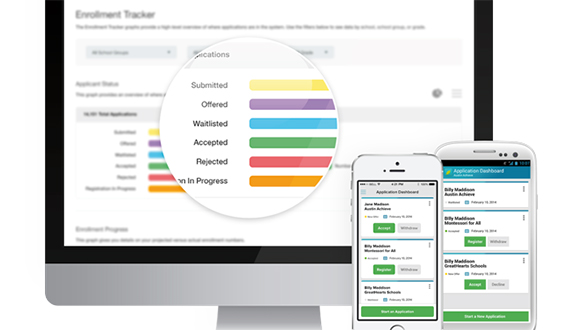 San Francisco-based SchoolMint, which provides a platform for school choice logistics, has raised a $5.6 million Series A round led by Runa Capital, making the total amount raised by the company $8 million once a seed round from September 2014 is included.
Founded in 2013, the company says it can be found within 2,000 schools throughout 30 states and four countries, with its products used by over 1.5 million students between pre-kindergarten and the 12th grade.  Reports from the company show it quadrupling in size since the seed round in September 2014.  In the past four months alone 500 schools have been added.
"School districts, charter schools, and independent schools are seeing the ways that SchoolMint can exponentially benefit their enrollment process. We're really enthused to be able to help more schools redefine their end-to-end enrollment experience and make the process more efficient for their staff and more user-friendly for parents," said Jinal Jhaveri, SchoolMint CEO.
According to Jhaveri, the company is a "mobile and online school choice platform that allows schools to manage the whole process—from recruiting to payment—including any paperwork and analytics on schools' progress."  Parents are able to use the platform to keep track of a number of various processes, such as charter lotteries, school choice within districts, registration, enrollment, and payments.  The systems works with independent, public, charter and parochial schools, writes Blake Montgomery for EdSurge.
The idea for the company came as a result of Jhaveri and cofounder and COO Forum Desai's frustration with enrolling their daughter in kindergarten.  Previously, the duo ran the web design firm Log(n), which had been in charge of creating a custom application management system for Rocketship and Great Hearts Academy charter school networks.
Jhaveri attributes the growth of the company to the fact that any process SchoolMint deals with can be handled on a mobile device.  In fact, over 55% of the company's customers access SchoolMint through a tablet or phone, although the platform also works on web browsers.  Jhaveri also believes the low-income districts and families find the platform to be appealing, as this demographic typically uses mobile devices to access the internet.
Although education technology companies say they have trouble integrating the platform with the various enrollment methods used by individual schools, Jhaveri maintains that his team can get the processes up and running on the platform for a school in just 21 days. Most of the investment funding is expected to be used toward ensuring that this process remains smooth.  Additional members will be hired for sales and customer needs teams in order to keep schools happy.
Lory Pilchik was recently brought on to SchoolMint to become the Chief Marketing Officer.  Her leadership skills and history of success within the education sector, the company says, are expected to increase the footprint of the company as well its impact.
SchoolMint provides a cloud-based student enrollment and school choice platform for Pre-kindergarten through 12th grade registration in an online environment.  The platform automates the entire process, offering real-time insights and predictive analytics, which means wait lists and lotteries are managed, year-round parent communication is supported, and school fees can be collected.