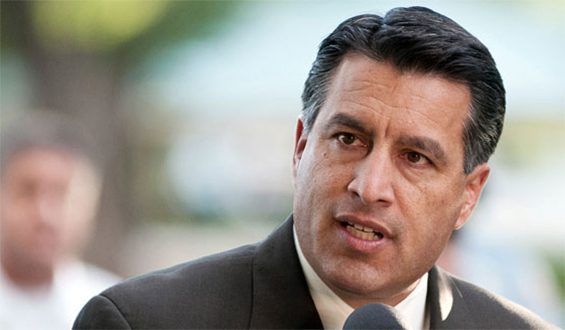 A Statement of Emergency has been signed by Nevada Governor Brian Sandoval to grant provisional teaching licenses effective immediately. Interim-Superintendent of Public Instruction Steve Canavero requested that the governor address Nevada's urgent teacher shortage by providing qualified individuals who would not have been licensed without the governor's approval.
Canavero's request comes after a recent change in federal law that prevented the state from issuing provisional licenses because doing so could put the state at risk of losing federal funding.
Gov. Sandoval approved teacher hiring incentives in 2015, including the Teach Nevada Scholarship, to increase recruitment efforts. This emergency approval policy is another component of the Sandoval administration's plan. Canavero said:
"A good teacher has the ability to improve a child's education experience and a great teacher will help us transform Nevada's delivery of education. I would like to thank Governor Sandoval for taking immediate action and I look forward to implementing this new policy across the Silver State."
The Washoe County School District responded to the governor by stating the district is currently in need of 40 teachers, mostly in the areas of special education, math/science, and career and technical education. Since the beginning of the year, the district has been relying on long-term substitutes and retired teachers to fill 60 positions. They thanked Sandoval for his ongoing commitment to education in the state, according to a news release from KOLO-TV.
The federal Every Student Succeeds Act now allows the granting of temporary one-year licenses to teachers from out-of-state when they meet specific state standards. Recent graduates who have teaching degrees but do not yet meet state requirements are also eligible for the temporary licenses, writes Trevon Milliard for the Reno Gazette-Journal.
The process of being certified in Nevada can take anywhere from two to six months for out-of-state teachers if everything goes as planned. Now teachers will have a year to get their credentials while they are in the classroom.
State officials have said that approximately 1,000 potential teachers were lost by Nevada because of the licensure issue.
Clark County has about 700 vacancies at this time, according to Cy Ryan of The Las Vegas Sun, along with the Associated Press.
The Forum for Education and Democracy, an education "action tank" working to encourage strong public schools, equity of educational resources, and an informed, involved citizenry, lists on their website ideas for recruiting and retaining teachers.
They point to countries that consistently have high-achieving students, such as Sweden, Japan, Finland, and Australia. These countries make significant investments in teacher training as well as equality in teacher distribution, and they rarely have teacher shortages.
Young people who want to teach as a profession have high-quality graduate-level teacher education paid for by the government. All beginning teachers are assigned mentors who are expert teachers. They also offer equitable salaries and give added benefits for teachers in hard-to-staff areas.
Teacher salaries are competitive with other professionals, like engineers, and professional learning is included in the 10 or more hours assigned weekly for planning and professional development.