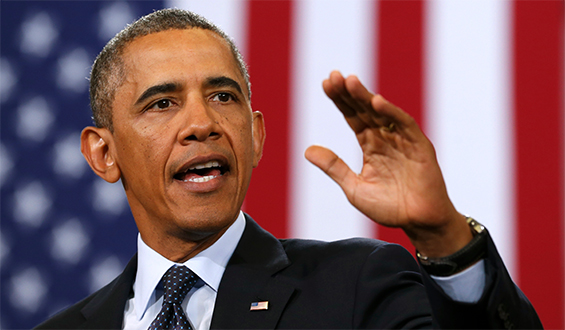 President Barack Obama's $4.1 trillion 2017 fiscal year budget includes big plans for US education. The president believes that real opportunities begin with education, so his budget plan has set aside $69.4 billion in unrestricted funding for the Department of Education.
One of his priorities is for all children to have access to high-quality preschool programs, particularly low-income families. Another measure high on the Obama's list is more support of policies for students who are on the college path.
Michael Oleaga writes for Latin Post that the president pointed out that two-thirds of jobs in the US will require some education exceeding the high school level by 2020. For that reason, his budget is poised to increase Pell Grants, allow students to continue forward motion toward college during summer classes, and offer scholarships to those in prison so they can begin again and find well-paying jobs upon their release.
Obama has also offered a $300 On-Track Pell Bonus for students who graduate on time by taking on 15 credit hours each semester. He also highlighted a Second Chance Pell for prisoners who have completed their sentences and are about to re-enter the free world. The purpose is to assist in transforming prisoners' lives through the use of Pell funding to pay for college or training opportunities.
The 2017 budget reflects Obama's commitment to offer select students free community college, a program called "America's College Promise" (ACP). Over ten years, $61 billion would be invested so that eligible students can work toward the first two years of their associate's or bachelor's degree at no cost to them.
Another item on the president's priority list is to make the Free Application for Federal Student Aid (FAFSA) process simpler. The budget would allot $30 million for a Historically Black Colleges and Universities (HBCU) and Minority Serving Institutions (MSI) Innovation for Completion Fund that will be used to increase the rate of graduation among students of color and low-income students.
The plan includes the College Opportunity and Graduation Bonus program, which is an incentive for institutions of higher education that have substantial low-income student enrollment and strong graduation rates.
Another element in the new budget is a $120 million competitive grant program put in place to assist school districts in creating and implementing programs that will get poor and wealthy children in the same classrooms, reports the Huffington Post's Rebecca Klein.
The measure is called "Stronger Together", and will initiate funding for five-year projects in districts and amalgams of districts. The aim is to encourage schools to find "ways to foster socioeconomic diversity through a robust process of parental, educator and community engagement, and data analysis." US Secretary of Education John King, Jr. says he will make school diversity a priority issue.
Many of the reforms that the Obama administration has championed are embedded in the Every Student Succeeds Act.
Additional key education investments include $15.4 billion for Title I Grants to school districts to ensure that all students graduate from high school prepared for work or college.
And a line item of $4 billion in funding will go to the Computer Science for All program, while $138 million will fund enforcement of the country's civil rights laws in regard to protecting equal access to education. The "RESPECT: Best Job in the World" program will receive $1 billion to attract and retain competent teachers in high-risk schools, according to the US Department of Education's website.
Although it has been shown that integrating schools by race and economic status is one of the best ways to improve opportunities for kids, lawmakers have been tentative in their effort to push for steps toward diversity because of flashbacks to forced racial busing in the 1970s, writes Richard D. Kahlenberg in The Atlantic.
But the logjam has been broken now that the $120 million "Stronger Together" grant program has been included in the fiscal budget despite critics warning that this move will be a repeat of forced busing."
Reports from The Century Foundation back the administration's position. The report by Amy Stuart Wells, Lauren Fox, and Diana Cordova-Cobo of Columbia University Teachers College explains that the "benefits of K-12 school diversity indeed flow in all directions." And for many years, higher-education leaders have known that "diversity makes us smarter."
In a recent interview after stepping down from his position, former Education Secretary Arne Duncan said one of his failures was the absence of progress in the area of school integration.
"I would give myself a pretty low grade on that," he said.
Secretary King declared:
"Research shows that one of the best things we can do for all children—black or white, rich or poor—is give them a chance to attend strong, socioeconomically diverse schools."