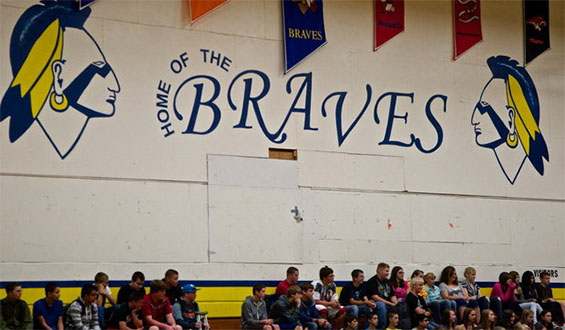 The Oregon Board of Education has decided to allow some public schools in the state to retain their Native American mascots.
A previous ruling by the board required 14 schools in the state to find new mascots by 2017.  However, a new amendment approved last week will allow those schools who obtained permission from one of the nine tribes in the state to keep their Native American mascots.
Some Native American tribes have been pushing for tribal-theme mascots to be banned since 2006, reports Casey Parks for Oregon Live.
Over the next few years, the board reviewed a number of studies that suggested Native American mascots were discriminatory, harassing students, and promoting stereotypes. In 2012, the board ordered all schools who had such mascots to find new ones.  If schools chose not to follow the requirement, they would lose funding.
However, Republican legislators who did not approve of the decision fought back, passing a bill in 2014 that allowed school boards to work with tribes in the state in an effort to allow the mascots to stay in place.  Under the bill, the board was asked to determine the rules for such agreements.
As a result, work groups were formed by state officials to offer advice on how best to proceed with the rules.  Under a unanimous vote last May, the board decided not to approve an amendment that would allow schools to obtain permission from individual tribes, writes Carisa Cegavske for NRToday.
Since that time, state officials have talked with each of the nine tribes in the state, finding that some have been working with school districts to create plans that would allow the mascots to stay in place while teaching students about tribal history and culture.
In one example, members of the Confederated Tribes of the Grand Ronde decided to allow the high school teams in Banks to continue to call themselves the Braves.  In return, the district would implement new curriculum teaching students about the history of the tribe and a Native Club would be formed for middle and high school students.
Meanwhile, activist and former chair of the Human Rights Commission in Portland Sam Sachs argues that the move is wrongheaded.
"It's just extremely disappointing that they didn't have the courage to stand up for the Native American students," said Sachs. "The nine tribes don't speak for every Native American person in Oregon or the students who have to go to these schools. It doesn't change the research. The use of these names and mascots have a negative impact on students, especially their self esteem. There's no research that says these mascots empower Native American people."
Sachs went on to say that a lawsuit would be filed by Native American students in Oregon against the state and the board of education later in the spring.