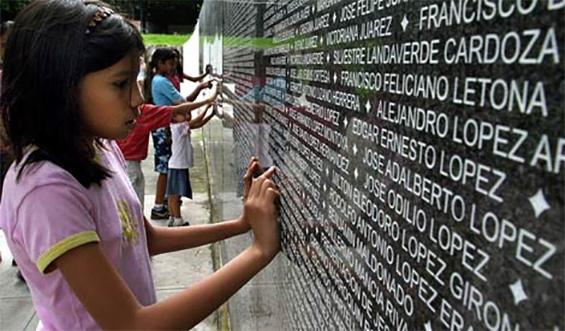 Schools in England will now be including human rights education.
The course, entitled "Speak Truth to Power," will focus on topics like slavery, religious freedom, political violence, environmental damage, and repression, and feature the histories of important human rights activists. Students will also learn about important current events like the violence in Syria, and the actions of Boko Haram. The course's goal is to inspire debate about challenging topics.
According to Sarah Cassidy of the Independent, the curriculum was designed by the American activist Kerry Kennedy, in tandem with Robert F. Kennedy Human Rights, the organization that commemorates her father who was a US senator before his assassination. The inspiration and basis for the material came from her book Speak Truth To Power: Human Rights Defenders Who Are Changing Our World. The book includes interviews with key activists like Marian Wright Edelman, the Dalai Lama, Desmond Tutu, and Elie Wiesel, among others.
Kennedy, speaking at the Lilian Baylis Technology School in Vauzhall, south London, said:
I would love to see teachers across the United Kingdom bring the curriculum to their schools and students, creating the tiny ripples of hope that lead to real and lasting change.
The idea is to blend human rights into the very fabric of what schools teach, not to regard it as something extra or incidental to their missions.
The program has already reached more than one million students in the US and more around the world.
Education Secretary Nicky Morgan has expressed her enthusiasm for the program. Sean Coughlan of the BBC News quoted Morgan on her vision for including human rights education throughout Britain:
We want all young people to leave school well-rounded, confident, and resilient, and fully prepared for life in modern Britain. This means encouraging them to become active and engaged citizens, promoting integration and building a One Nation society.
The course material is available for teachers online, and RFK Human Rights will be funding training, according to Josie Gurney-Read of the Telegraph. Teaching the material will be a choice left up to teachers.
In the long term, the course material might help put a stop to larger human rights abuses, but might also have a small-scale impact by dissuading students from more commonplace human rights abuses like homophobic and/or sexist bullying.
Kerry Kennedy graduated from the Putney School and Brown University before receiving her J.D. from Boston College Law School. She has worked as an activist since a 1981 campaign an intern with Amnesty International in which she investigated wrongs done to refugees from El Salvador by US immigration officials. She established RFK Human Rights in 1986. Her human rights work has dealt with issues like children's rights, indigenous land rights, freedom of expression, ethnic violence, environmental issues, women's rights, honor killings, sexual slavery, domestic violence, discrimination, and sexual assault.