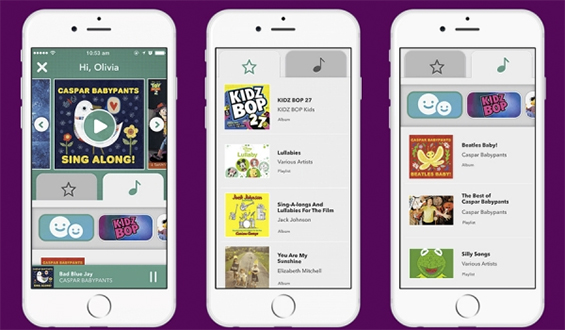 Music streaming service Rhapsody is now offering music just for kids in a new update including a kid-friendly catalog.
Other streaming services, including iTunes, Spotify, and Rdio, offer kids' music already, but what is different about Rhapsody's offering is the hand-selection process that makes sure all of its music is kid-friendly.
The catalog of music available through Rhapsody KIDS is free for any subscriber. Its playlists at launch include Disney, Kidz Bop Kids, Spongebob Squarepants, The Laurie Berkner Band, and Caspar Babypants, among other artists. In total, KIDS has 16,000 artists, 80,000 albums, and more than a million songs, all aimed at kids under 10, reports Hugh McIntyre of Forbes, and the service plans on growing.
Parents can also customize playlists for their children and approve additional music. For example, parents who are Beatles fans can add their more tame offerings for their children to love or add inoffensive pop music for their older children.
James Risley of Geek Wire quotes Rhapsody's CFO Ethan Rudin on how kids' music is a logical next step for the platform:
As the original streaming music service, we have a deep base of customers that have moved into a new chapter of their life and are hungry for a way to share music with their kids. With Rhapsody KIDS, we're excited for parents to share their love of music with their young kids in a fun, safe, and controlled environment.
The service's interface is designed to appeal to children. The emphasis is on visual navigation rather than text, and when a child opens the app, they will see their most recently played songs with playlists that automatically repeat. This appeals to kids' tendency to want to hear the same song (or the same bedtime story) over and over.
Max Willens of the International Business Times quotes Nathan Rozendaal, senior director of product, on demand for kids' music:
Over half the customers we've surveyed have young kids. They expressed interest in a way to use Rhapsody with their kids. …My kids go through phases where all they want to hear is the same songs over and over again for weeks. This helps them do that.
Sarah Perez of TechCrunch observes that this service is a smart business strategy for Rhapsody, since after 14 years in operation, its user base tends to be older than those of newer services. Over 50% of its 3 million customers share their accounts with their kids.
Those who are interested can pay $9.99 per month for on-demand service and less for radio-style listening.
Android will debut the service first since Apple must approve the update.