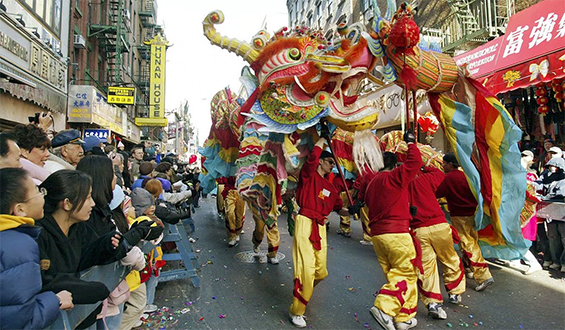 For the first time, New York City public schools are ringing in the Lunar New Year by officially recognizing the day as a holiday. Kids and their families will be excused to celebrate the Asian holiday with a day out of school.
In NYC, one in eight residents is Asian, shows US Census data. For years, Chinese, Taiwanese, and Korean American parents had to make a choice between celebrating their most important holiday or making sure that their children's attendance record would not be affected, writes The Christian Science Monitor's Cathaleen Chen.
New York state Senator Daniel Squadron notes that one in six students in his district is of Asian descent. His constituency includes Chinatown where the number of Asian Americans in the public school system is large. In other years, the rate of students who were absent on the Asian Lunar New Year has been up to 80%.
But for Asian parents, it is difficult to have their child miss even one day of school whether or not school policy allows for an excused absence.
"There was no way our parents would let us skip school," New York Rep. Grace Meng (D) of Queens said at a press conference this summer.
Meng proposed making the Lunar New Year a school holiday and Mayor Bill de Blasio announced in June that the holiday was approved. The mayor added that the New York City district was the largest in the US to recognize the Asian-American community's observance of the holiday. The mayor also included two Muslim holy days, Eid al-Adha and Eid al-Fitr, in the school holiday list.
Though the biggest to recognize the Lunar New Year, NYC is not the only district, since Maryland's Howard County included it on the school calendar, along with Eid al-Adha, the Hindu Diwali, and two Jewish holy days.
The Lunar New Year is a school holiday in San Francisco and Tenafly, N.J., as well.
"[We] are setting a high bar for inclusiveness for the rest of the country," City Schools Chancellor Carmen Fariña told the New York Daily News.
Ang Li, reporting for NY City Lens, said the city's Asian Americans enjoyed a weekend of rest instead of worrying about school schedules. One mother, Vicky Xiang, added that it was nice to have her daughter with the family for morning tea and visiting family and relatives.
At morning tea, children are given red packets with money inside and wish their families good fortune and health. Xiang said she would take her daughter to Chinatown for the dragon dance and to be a part of the festive activities.
A tradition in many Asian cultures is buying apples and oranges. When spoken in Chinese, orange has a sound like "good luck" and apple sounds like "safe." Both are symbols of a happy New Year and are be a part of the holiday's preparation.
Yeeli Zhao, 14, a Manhattan public school student, made of the most of the day:
"I slept ten hours today because I don't need to worry about homework [for this New Year.]I also spent more time talking to my family and I am going to have a big dinner with them."
One Tibetan student explained that the Tibetan new year also falls on this day, so he feels the holiday brings the community together, writes Alizah Salario of Metro.
A student from Cuba says having the day off gives everyone a chance to take appreciate Chinese culture. Thalia, 16, is a Dual Language student and says she is excited about the fireworks in Chinatown.